Local Mobile Search Marketing Program
Port Angeles Website Services Local Mobile Search Marketing Program
Lite Version: $500 Setup + $100/mo
We Submit to ALL Five Major Data Aggregators (Infogroup, Neustar Localeze, Acxiom, Factual and Foursquare)
Includes capture and management of your citation (NAP)
Includes re-submission of your citation every month
Full Version: $1,000 Setup + $250/mo
We Submit to ALL Five Major Data Aggregators (Infogroup, Neustar Localeze, Acxiom, Factual and Foursquare)
Plus Over 300 Data Search Platforms
Includes capture and management of your citation (NAP)
Includes re-submission of your citation every month
Includes monthly article distribution (100 Directories)
---
How it Works
1. We Create Your Company Profile.
We certify your business Name, Address and Phone Number (NAP).
Building your initial profile not only allows us to add basic information about your business but will also enable us to add descriptive details that will grab a reader's attention and raise your visibility.
2. Optimize For Performance.
We enhance listings with unique descriptive keywords, links, your logo and more to help your listing standout.
We can also add hours of operation, products and services and if whether or not your business accepts credit cards.
3. Quality Assurance.
Our system will search for any existing claimed or unclaimed citations that match your business.
We claim and modify any existing, accurate citations.
We also close inaccurate and/or duplicate citations that confuse browsers and diminish the power of your listings.
Once we have entered and updated all your business information, our system connects with the data providers and keeps them updated each month!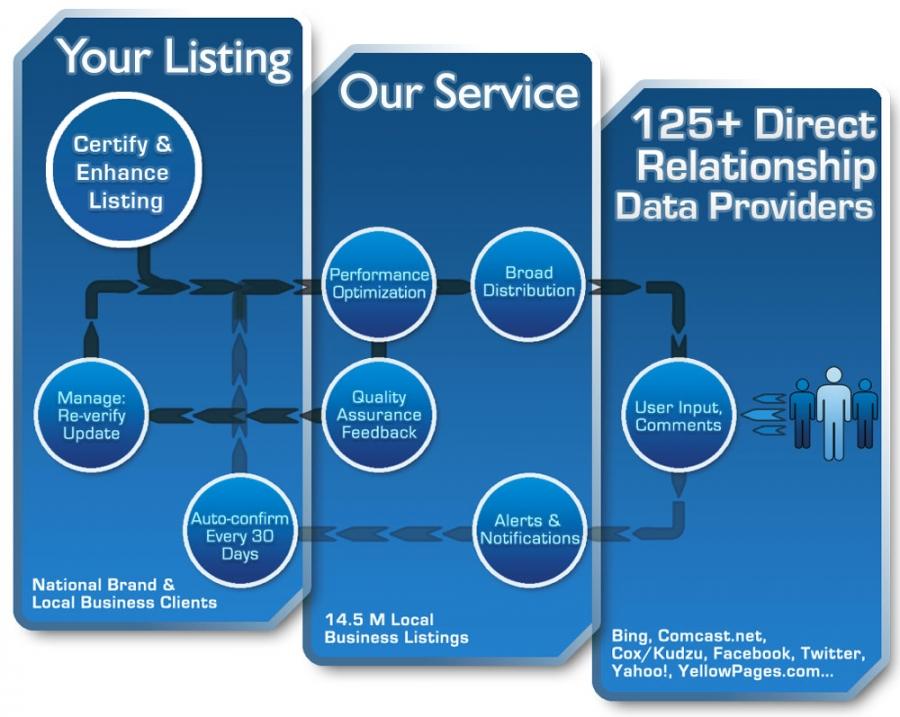 We update and resubmit all citations every 30 days for you.
This will ensure that all NAP (name, address, phone numbers) as well as all other key content associated with your listings in the network are always up to date and verified.
The result: search engines recognize it as the most relevant result for local listings.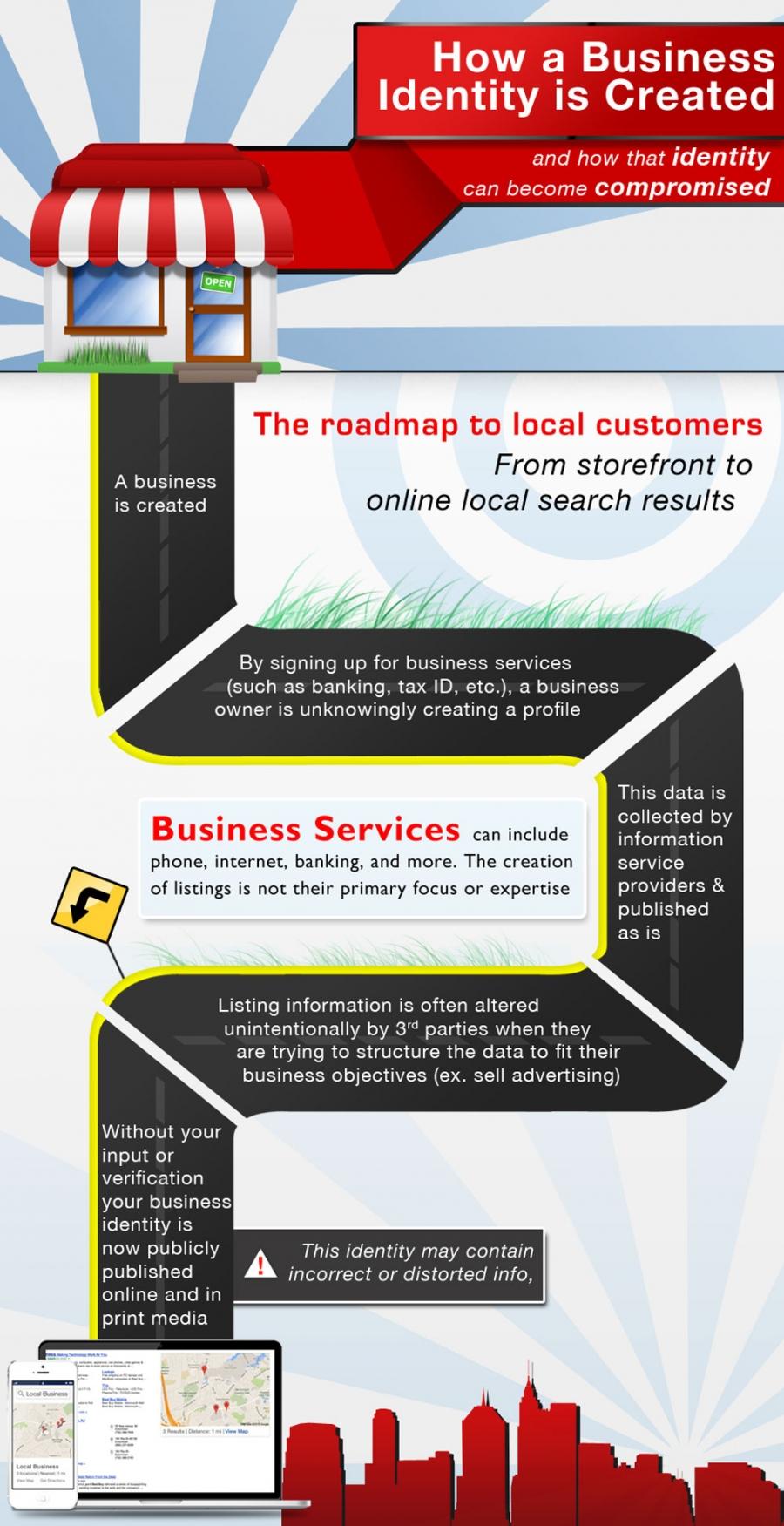 Our Data Distribution Network
---
With over 3 billion local searches performed every month, it is imperative that your clients are found in the top spots.
We Have Direct Relationships with Our Network via Our Approved API
Our powerful API enables us to claim, list, verify and update all of your business information to a trusted partnership network of over 300 direct relationship data providers, including:
Major Search Portals
Internet Yellow Pages
Internet Directories
Hyper-Locals
Verticals
GPS & Navigational App Portals
Mobile Services

We submit your business' citation or NAP & information to ALL FIVE major data aggregators. (Lite and Full Programs)
Axicom
Factual
Infogroup
Neustar
Foursquare
Your business listing is distributed to over 300 directories. A partial list follows. (Only Full Program gets these directories).
[24]7
411,ca- Wideport
411info
Access Together
Acura Addresses.com
Admedia
Advameg
Advertise.com
Advice.com
Agero
Aisle50
alk Technologies
Allpages.com
AlterGeo
Alteryx
AmericanTowns.com
Answers.com
anywho.com
AOL
Apartmentfinders.com
apartmentguide.com
App.net
Apple Maps
AroundMe.com
Ask.com
AT&T
ATD-Austin (therephonebook.com)
Atlanta NewHomes
AYO Technology-WebSite Alive
B2Byellowpages.com
bckyrd.com
beachcalifornia.com
Belo
BestOfTheWebLocal
Bing
Biz Scrambler
Blackberry
BMW
Boorah
BrightData
Bundle.com (Capital One)
Business Directories of Texas
BusinessSearch.com
Care.com
Cars.com
Centzy.com
ChaCha Search
challama.com
Chamberofcommerce
Chewsy
Chrysler
City-data.com
City.com
CityBot
Citygrid
CityMaps
Citysearch.com
CloudMade
Cloudy
Clutch Shopping
Comcast.net Search
Consolidated Communications (consolidateyp.com)
Contextuads.com
Contractors.com
CoPilot (Live & Truck)
Cornerstone Group
Coupon Sherpa
CouponMap
CrowdSpot
Databanq
DataSphere
DDC
Dealsplus
Denso
Dexknows
Directory Avantar
Dirxion
DoctorWait.com
Dogpile
Dogtime Media
Earthlink.com
Eating Places
Echoer
Edmunds
eGood
eGumball
Elocal
eLocal Listing
eMbience
eServiceLog
ezlocal.com
EveryScape.com
EZToUse.com
Facebook.com
Family Finds
FeedMe
fetchtoto.com
Fieldforce
First Street Live
Fivestar Software
Fizzlocal
Focus Local
Foodie
Ford
Foursquare
Free411.com
gapNsnap
Gas Station Checker
GenieKnows.com
Getlisted.org
GiftCards.com
GM
GoLocal247.com
GoodInfo
Google
Groupon
Gvidi
Harman
HelloMetro.com
Herald.com
Hibu
Hineighbor.com
Looksmart.com
Lumatic Magicyellow.com
MakeItLocal
MamaAlwaysSays
MapMyRun
MapQuest
Menu pages
MerchantCircle
Metroland Publishing
metropolist.com
Microsoft (bing.com)
MidwestYP.com
MindMeld
Mobifind
MojoPages.com
MyCity
MyCityWay.com
MyCoupons.com
Mylocalheadlines
MyLocally
mymove.com
Mywebyellow
Nara
News-Gazette
Nissan
Nokia
Nomao
OnMedia
OnStar
Oomea
Openlist.com
Paradine
patch.com
Patriot Phonebook
Pelopidas
Picksie
Pioneer
Pioneer Directories (midwestyp.com)
Place of Mine
PlaceIQ
Planapple
PlanetDiscover.com
Pokitdok
Porsche
PowerProfiles
PulseLA
Radarfrog
Radiate Media
ReachLocal
realtor.com
Reply.com
Restaurants.com
RightWay
RoadTrippers
Rocket Fuel
Saga
Salespider.com
Samsung
Search Initiatives
Searchbug.com
SeccionAmarilla
Seekitlocal.com
Sense Network
SEOmoz
Shoptopia.com
ShowMeLocal
Smart Marketing Team (fizzlocal.com)
Snoox Southern Directory Publishing (ypsouth.com)
SpecialsAgent.com
Speed Run
SpeedSpot
Spotcast
spotlikes.com
Spotzot
Sprint
Subaru
SuperPages.com
TechnoCom
TeleNav
Tele Atlas (TomTom)
Teleroute
Therapists.com
Theredbook.com
Time Out New York
Town Planner
Toyota
TravelShark
Tribune Interactive
TripAdvisor
Trulia
TruPro
Twitter.com
UpMeSocial.com
Urban Mapping
Urbanspoon
usdirectory.com
V-enable.com
Vendasta
Verizon
Vernon Publishing
VerveMobile.com
Veveo
Viewpoints Local
VisiKard
Voltari
Walkable Restaurants
WalkScore.com
Walt Disney
Weblocal.ca
WeddingWire.com
Where Inc.
Whisper
White Pages
WhosCall
Whowhere.com
Why Wait