A Word from the Best Way Websites CMS Architect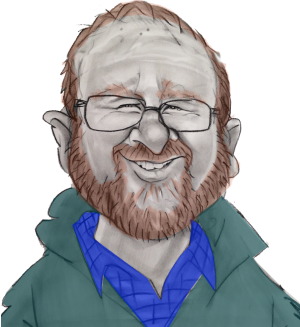 Hi. I'm the "cartoon guy" that you see at the top of the website and I'm the place "where the buck stops" for the company.
I was born and reared in Texas and am proud to have a Native American heritage (25%) even though I don't look the part.
My dad had jet black hair and tanned nicely. My mom's dad was Scott Irish and those dominant genes resulted in three fair-skinned, red headed children.
I am the baby of a family of six, so that explains why I am spoiled and sometimes a bit of a comic.
I understand that many famous comedians are "the babies" of their families. My youngest is an idiot, too!
What I Love
I love Jesus Christ, my Lord and Savior most of all.  I love God's Word and like reading it using the Authorized King James Version (now I'm really dated!).  
I love my sweet wife and four awesome (grown) children and slew of grand children.
I love my fellow man.
I love my customers and I'd love for you to become one of them!
What I Like
I like to garden and I like to cook.  I especially like cooking in my wood-fired, outdoor oven that I built several years ago.  I like experimenting with different ways to build them, too.
I like an occasional ice-cold, light to medium beer and a hot, home-made, wood-fired Mediterranean style pizza.  This pizza includes all of my favorite toppings: lamb, sun dried figs, fresh mozzarella and feta cheese, kalamata olives, fresh tomato and basil.
I used to like fishing a lot, but haven't done much of that since I left Texas back in 1980.
I like Dr. Pepper and Reese's Peanut Butter Cups.
I like taking walks with my wife, Lisa, especially along the waterfront trail in Port Angeles.